[Beginner's Guide] Basic Starting Dungeon Layout and Concepts
One of the things that is yet to be included in the tutorial for this game are some basic concepts to designing your dungeons. This beginner's guide will cover some basic information and concepts to designing your starter dungeon.
Since expansion dungeons are a lot more complex due to multiple entrances and random resource node locations, I hope to make a separate thread for those in the future. However, you will find that a lot of the same concepts will apply to designing both dungeons.
I will try to update and edit this thread throughout following weeks, but for now, I wanted to get at least a basic example up with some key concepts.
NOTE: There are many good dungeon layouts. The following is just one of the most common and basic designs that many experienced players use when starting out. The sizes and exact placements of the rooms are optional and will vary based on the number of tiles you have, your needs and personal preference. The purpose here is to illustrate some basic concepts and not necessarily a template of how to design your dungeon, although it is a solid layout.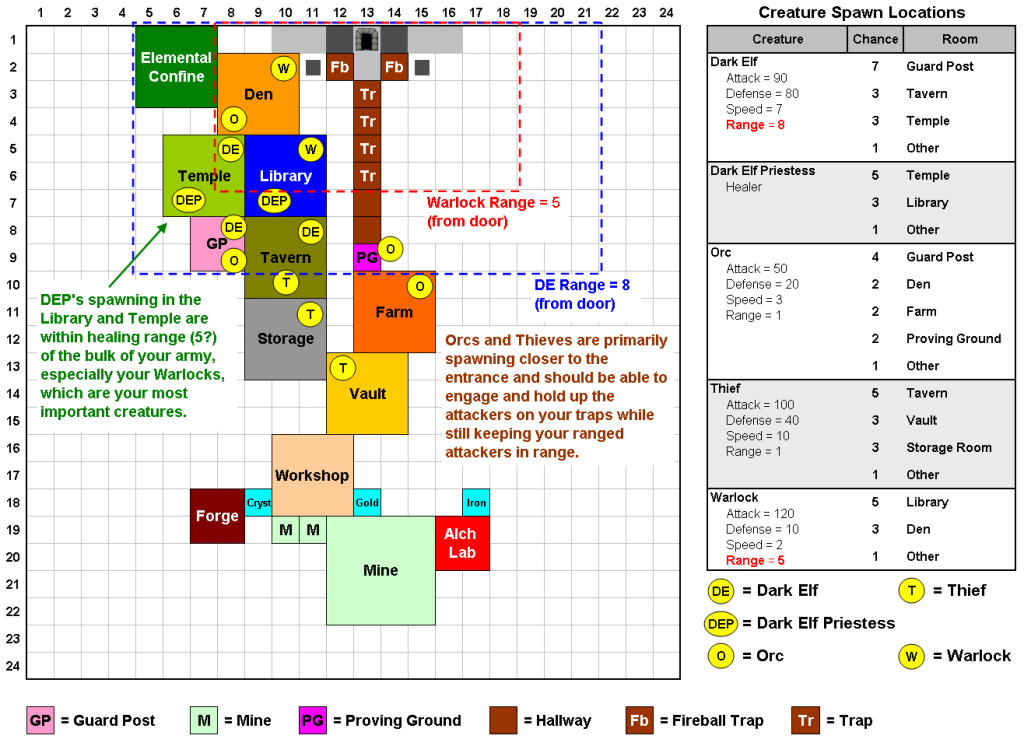 DUNGEON TILES
ROOMS
There are currently 20 different rooms available in Dungeon Overlord, not including hallway tiles. Some room types may be locked and require prerequisites to be met before they can be built, such as researching a technology or having an existing room of a different type in the dungeon already. For example, in order to build a Storage Room, your dungeon must have a L3 Vault.
In this guide, I will primarily be covering the more basic rooms (and their benefits) that you will have access to early in the game.
Since tile space is going to be at a premium early in the game, be careful not to upgrade rooms just because you can. If you do, you'll probably find yourself downgrading some of them because you need to upgrade an important room and ran out of tiles.
Room Levels (Upgrading)
All rooms start out at Level 1 (L1) and can be upgraded to Level 5 (L5). L1 rooms can be built anywhere as long as they're connected to the rest of the dungeon. Upgrading rooms will have a resource cost and require more space, ie - L2 = 2x2, L3 = 3x3, L4 = 4x4, L5 = 5x5. As you upgrade each room, a different graphic (prop) will appear in the center of the room.
Upgrade Benefits
As you upgrade your rooms, you will gain stacking benefits for each level you upgrade a room. At certain room levels, you will see that some rooms will provide a variable benefit based on the number of room tiles of that same type.
You can see the benefits of upgrading a room to the next level by hovering your mouse over the "Upgrade Room" button in a room's detail screen.
Also, many pieces of furniture will have a minimum room level requirement before you will be able place the furniture in that room. Higher tiered furniture will require higher level rooms.
Moving Rooms
If you'd like to move a room without upgrading or downgrading it, simply click on the prop and choose "Move Room" from the popup menu. NOTE: In order to move the room, you must have the tiles at it's destination already placed.
ROOM PREREQUISITES
Here's a chart showing all the room prerequisites. NOTE: Many rooms also require a technology to be researched as well in order to unlock the ability to build a room.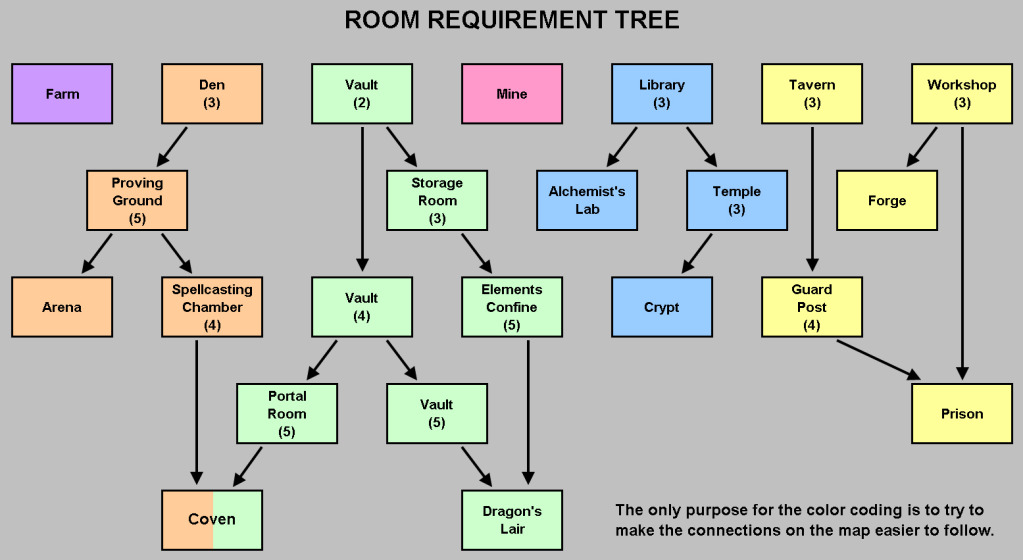 UNIQUE ROOMS
There are two rooms that have unique properties: the Vault and Hallways. Actually, the Hallway isn't technically a room at all.
Hallways
Hallways are basically empty (blank) tiles/rooms that provide no benefits. They do serve a purpose however. Traps may only be placed on Hallway tiles. Also, Hallways can be strategically placed in order to connect your rooms to the entrances and/or other rooms. Hallways are most commonly used to direct/channel your opponent into traps or an ambush.
Since Hallways provide no benefits, they cannot be upgraded as it would serve no purpose.
Each dungeon begins with some Hallway tiles already placed that can be picked up (sold) and will be added to your available tiles to be used elsewhere in your dungeon.
Since Hallways provide no benefits other than containing traps, many players choose to place down low cost room tiles that provide benefits rather than a plain hallway. Most commonly, you will see players replace hallways with Farm, Mine and Library tiles. However, there is some risk in doing this when being attacked/raided. Raiders will only need to get to one room tile to raid (steal resources from) the entire room. For example, if you place a Mine tile by a dungeon entrance, any raider who is targeting your Mine will only need to get to any one Mine tile in order to loot the entire Mine. Raiders will always raid the first tile of the room type they are targeting and then attempt to flee. So be careful which room tiles you place close to your entrances.
TIP: You can replace your Hallways with other room tiles as mentioned above and then switch them back to Hallways just before an incoming attack lands and then switch them back afterwards or when you log off.
Vault
The Vault is a unique room. It's size is fixed at 3x3 and every dungeon has one in the same standard location (center of the dungeon). The Vault cannot be sold or moved, although it can be upgraded.
Gold that is mined within your dungeon is carried from the Gold mining nodes by goblins and dropped on the vault floor. Once you pick up this gold, it is added to your Gold total at the top of the screen and can never be stolen. However, it can be stolen by raiders while it is sitting on your Vault floor.
The Vault also serves as the universal drop-off point for all resources brought in from raiding, trading and transfers between your dungeons or from other players. Resources dropped off in this fashion are automatically added to storage though and not literally dropped on the floor.
Upgrade Benefits (Cumulative)
L2: +5 experience (per hour)
L3: +13 experience (per hour)
L3: +1 additional Goblin
Taskmaster Bonus
+10% Increase Stack Size (per Taskmaster Level)
You will definitely want to upgrade your Vault to L3 for the +1 Additional Goblin bonus. Additional goblin bonuses are one of the best bonuses in the game, if not the best. The costs for a L4 vault require higher level resources that won't be attainable for beginning players for quite some time.
NOTE: The Vault's taskmaster bonus is applied to all rooms within the dungeon that stack resources, ie - Vault, Mine, Library and Farm.